Dog Services Leadership Team
Head of Canine and Supply Chain Services
Paul has specialised in Operations and Supply Chain in the corporate sector for most of his career and is delighted to have joined the Guide Dogs team at the beginning of 2021. Paul says, "I feel privileged to be part of such a trusted and highly respected organisation and to work with a truly committed and enthusiastic team, all passionate about supporting our clients in maximizing their independence."
Since graduating in Agricultural Science in the UK fifteen years ago, Paul has held senior roles in retail, tech and FMCG organisations, where he gained extensive experience in designing and optimising operations and production processes, and led a number of significant change programs.
Paul's move to Guide Dogs has helped him realise his dream of using his skills and talents towards a purpose beyond profit.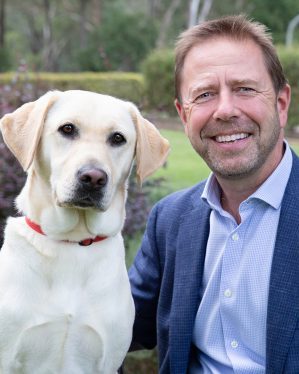 Guide Dogs Services Manager
Eddie has a background in Human Movement, Education and Disability Studies. He began  working with Guide Dogs in 2007 as an Orientation & Mobility Specialist in regional NSW. He has since qualified as a Guide Dog Mobility Instructor (GDMI), and has worked in that role throughout NSW, ACT and Victoria.
In 2017 Eddie was appointed as Training and Dog Supply Manager overseeing the Guide Dog training program in NSW before moving into his current role as Guide Dog Services Manager in 2020. In this role, Eddie leads the very passionate and knowledgeable Dog Services and support teams based at the Guide Dog Centre in Glossodia.
Eddie is passionate about delivering excellent outcomes for people who are blind or have low vision, and also for those who have other disabilities through our Therapy Dog program. The welfare of our dogs and the provision of high quality care and training are also high on his list of priorities.