Therapy Dog Team
The Therapy Dog Program (TDP) is a free community service which has been offered by Guide Dogs NSW/ACT for over 30 years. Due to the specific skill set and temperament required, not all dogs coming through the Puppy Development Program will be suitable for Guide Dog work, but they may shine as a Therapy dog. Therapy dogs play an important role in our community and can have a profound effect on the lives of our clients with many reporting reduced anxiety, increased self-confidence, and enhanced community interaction, just to name a few.  The team places our Therapy dogs all over NSW and ACT with a broad range of clients who may have a physical disability, behavioural or emotional disorder, health condition, or mental illness. TDP dogs are also placed in communal environments such as schools and aged care facilities. To ensure the best welfare outcome for our dogs, each Therapy dog is carefully selected and matched to suit both the client's and the dog's needs.
Therapy Dog Coordinator
Therapy Dog Coordinator Sam landed her dream job at Guide Dogs in 2000, and worked as a Kennel Attendant for 2 years before taking on the role of Therapy Dog Trainer. After 5 years she moved into the role of Therapy Dog Program Coordinator where she has happily worked ever since. During her time at Guide Dogs Sam has completed a Bachelor of Psychological Science, Cert IV Companion Animal Services and a Cert III in Community Services (Disability Work). She is a passionate animal advocate and rescues anything she has the time and space for. Sam and her husband have 2 daughters as well as a growing menagerie consisting of 3 Labradors (Jupiter, Nemo and Larry), two rescue steers (Dash and Bandit), and 2 goldfish (Sparkles and Sprinkles). The family will soon be joined by 5 rescue hens who will take up residence with their last remaining rescue chicken, Chook Chook.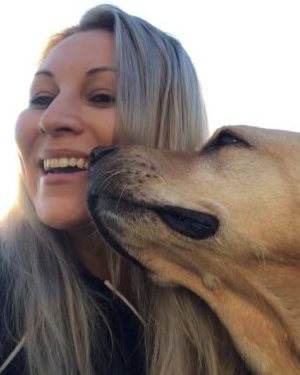 Therapy Dog Officer
Jo started working with Guide dogs approximately 16yrs ago on a casual basis in the kennels while she was working full time at a hardware store and studying a Cert 111 in Vet nursing. She then worked full-time in kennels before transferring to the Therapy Dog Team as a trainer. Her next port of call was the Puppy Raising Team where she worked as a Puppy Development Advisor for 14yrs. In 2020 Jo transferred back to the Therapy Dog Team where she now works as a Therapy Dog Officer. Jo is the proud owner of reclassified Guide Dog puppy, Louis and 2 Guinea Pigs called Popcorn and Biscuit.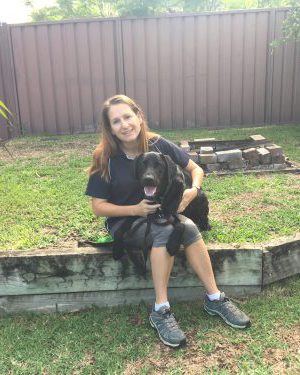 Therapy Dog Trainer
Maddy joined the Guide Dogs team as a Kennel Attendant in 2017. Besides showering huge amounts of love and attention on the dogs and puppies in her care, Maddy has lent her expertise to the Positive Paws program and inadvertently became the face of the kennels by producing a video tour which boasted top spot on the Guide Dogs Facebook page. In 2020 Maddy joined the Therapy Dog Team as Therapy Dog trainer and can often be spotted training her charges around the Guide Dogs Centre. Maddy is the proud owner of 3 Border Collies: Harry, Nox and Tricky.